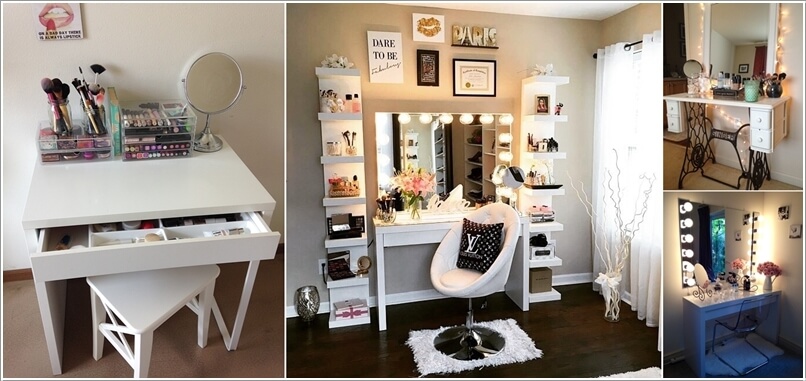 Makeup vanity with lights looks great! Although having a dressing table that isn't looking well organized will affect how you access daily makeup accessories and your bedrooms look.
If you are busy searching for amazing DIY vanity table ideas, we bet your room's vanity table isn't looking as tidy as you want.
Preferably, you would want to have a charming and peaceful looking bedroom. It is a reality that makeup vanity tables are difficult to keep neat. All your makeup accessories like your Eyebrow Pencils, Lip Gloss, and others lying around can instantly create a cluttered impression.
Expensive makeup accessories deserve to be well displayed, rather than having to reach out to the same old makeup items you don't need every time.
Luckily, we have quite a list of amazing DIY makeup vanity table ideas for you. Before getting started make sure you have the right tools for the project on hand, and if you need help choosing the right product, WoodjoyTools is a great resource. Check their site for helpful reviews and ideas.
A makeup storage area, a brush holder, and a jewelry storage box can do wonders at turning a disorganized pile of brushes and necklaces into a perfect looking space. Below are our top 10 picks for amazing DIY makeup vanity table ideas to sort out your stuff.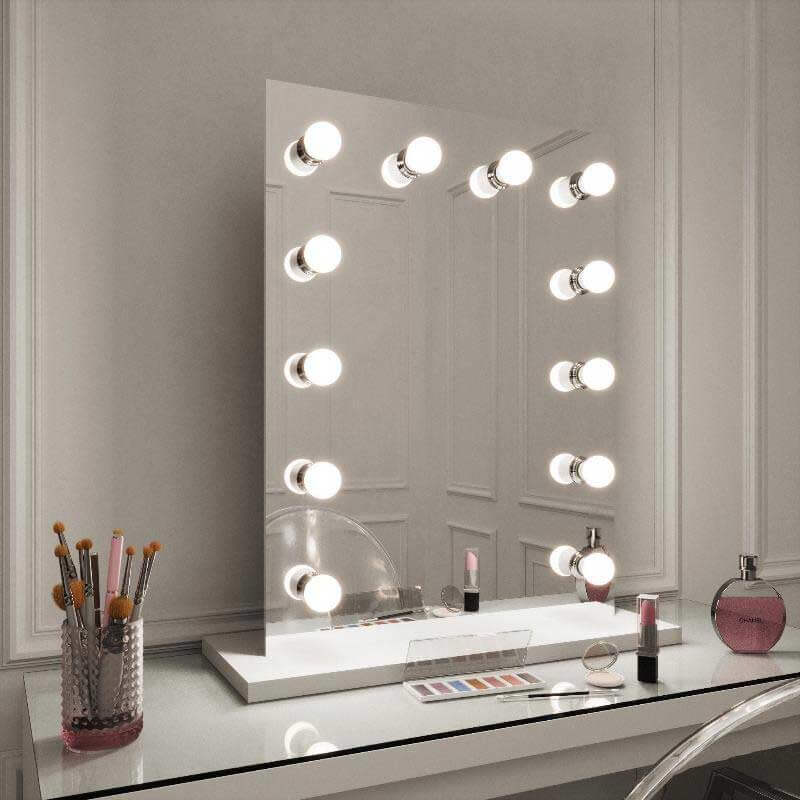 image via HollywoodMirrors
If your ever increasing supply of makeup is now usually cluttered and whenever you have to get ready there is a chaos to find the right shades of makeup needed then you probably need a makeup vanity table. We have found some really cool DIY versions that you can take a look at below:
1. Combine IKEA Bookcases with a Console to Create Your Makeup Vanity Setup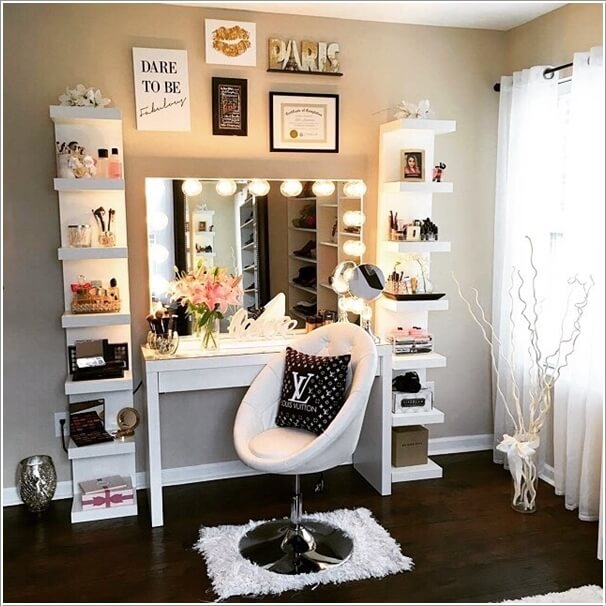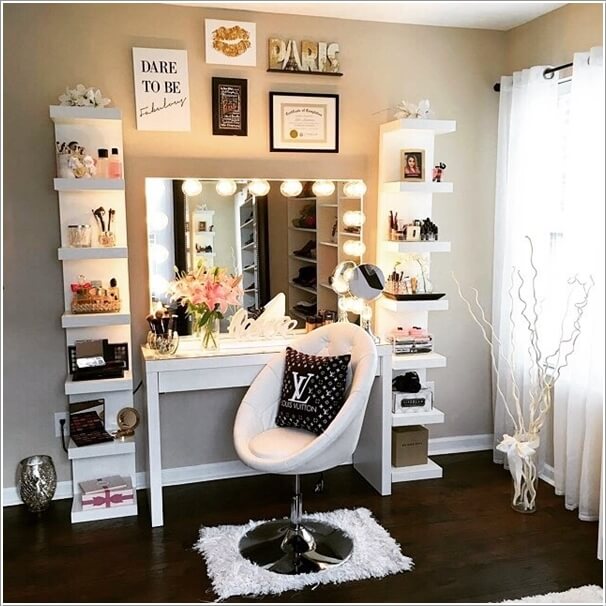 Image via: pinterest
2. Create a Minimalist Vanity with Two Floating Shelves, A Mirror and Baskets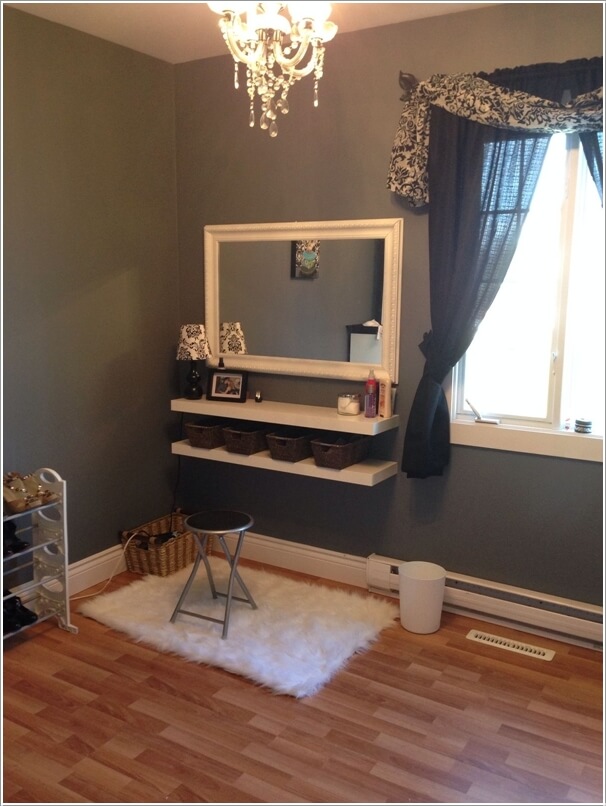 Image via: voce precisa decor
3. Bring Some Old Pallets into Use and Make a Vanity Table Like This One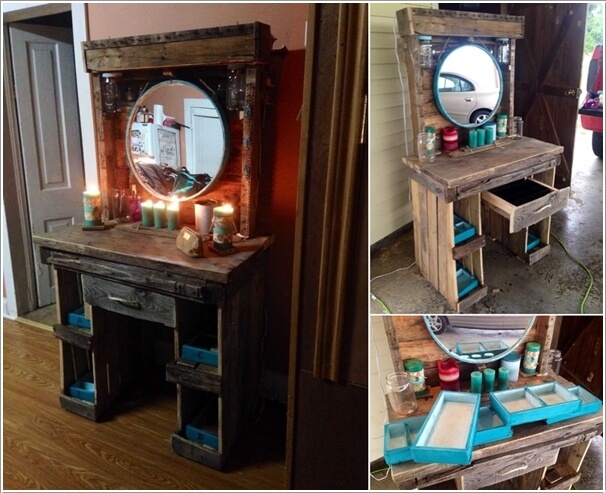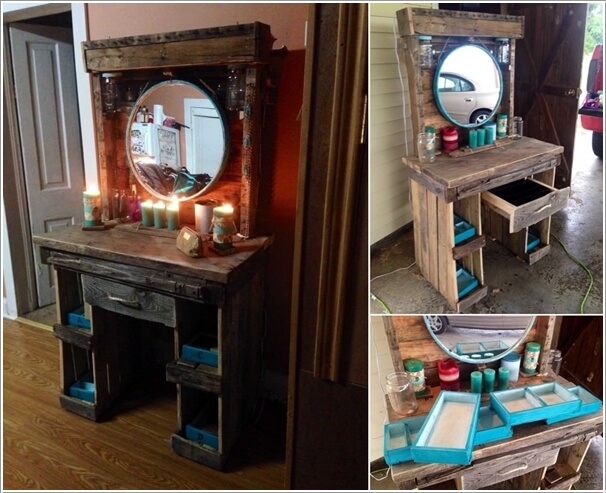 Image via: 1001 pallets
4. Recycle An Old Singer Machine Table and Give It a Makeover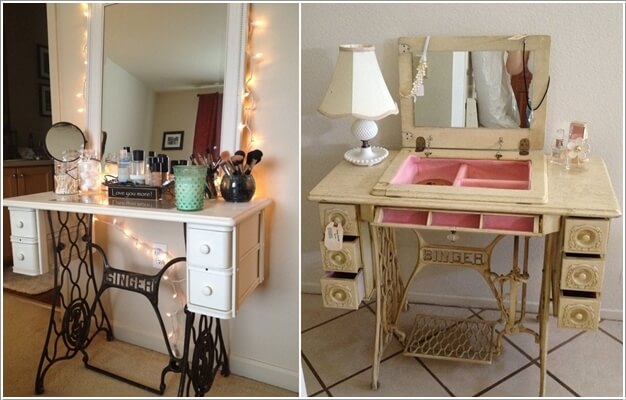 Image via: nathalia kalil
5. Create This Easy Vanity Table for a Teen's Room with Kitchen Stools, A Wood Slab and a Mirror Frame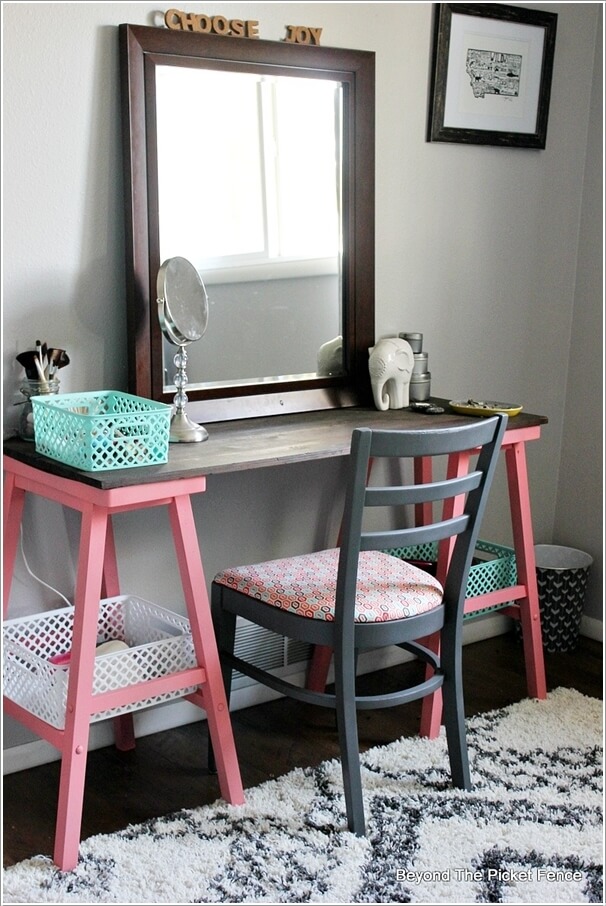 Image via: beyond the picket fence
6. Make a Wood Table Glass Top Vanity with Storage Compartments Like These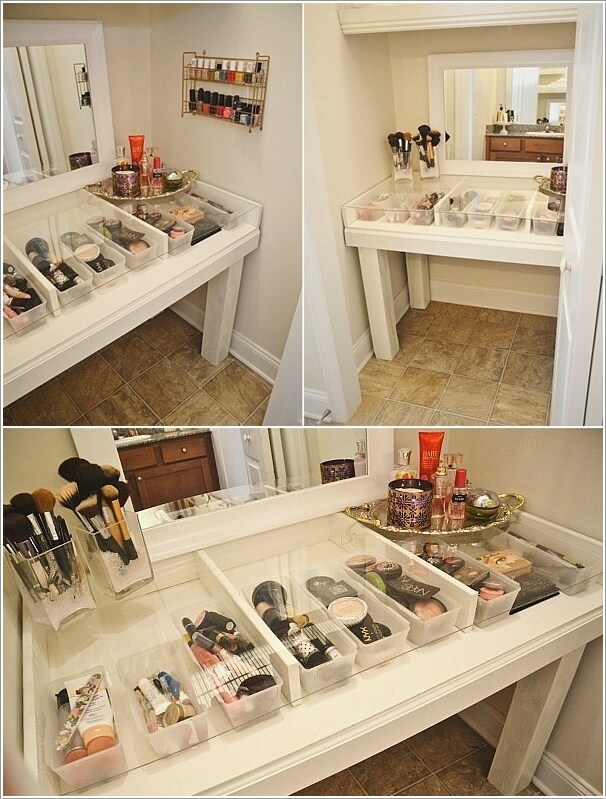 Image via: liz marie blog
7. Go For a Simple Console and a Mirror with Accent Light Bulbs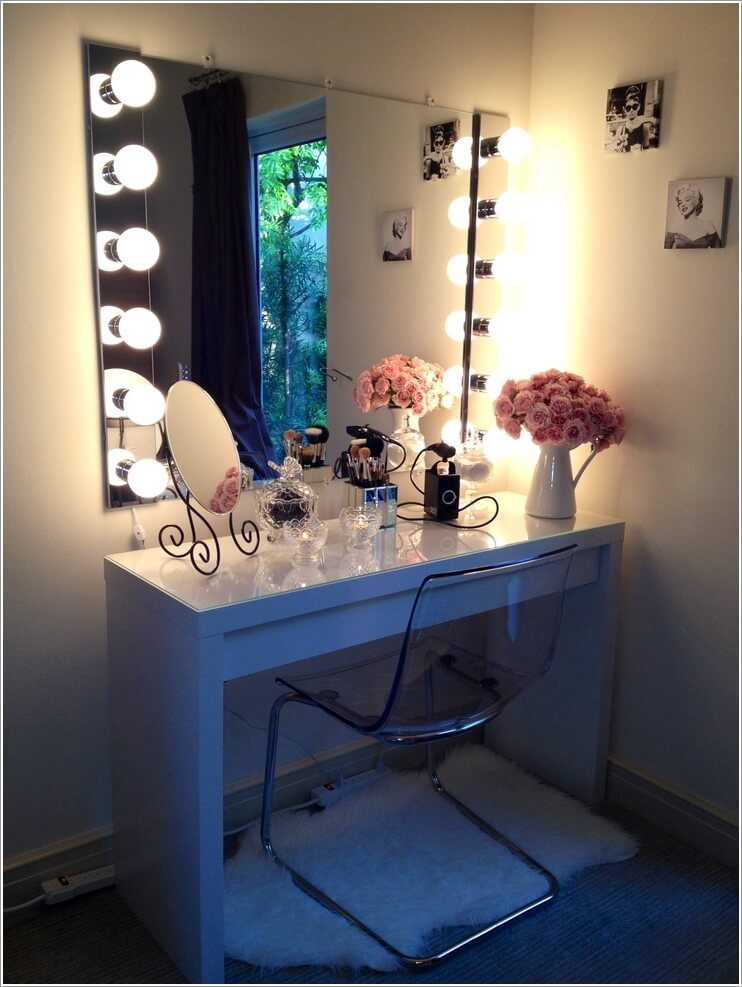 Image via: homedit
8. For a Unique Vanity Table Combine a Vintage Suitcase with a Table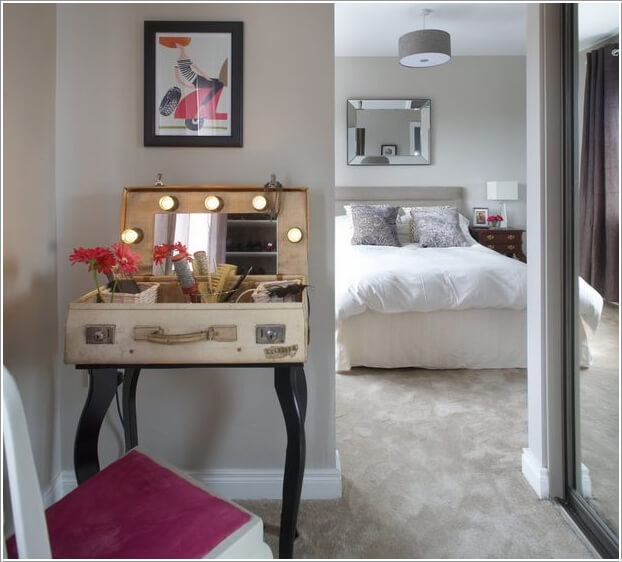 Image via: homedit
9. Make a Small Makeup Vanity Setup with a Small Drawer Table and a Metal Rack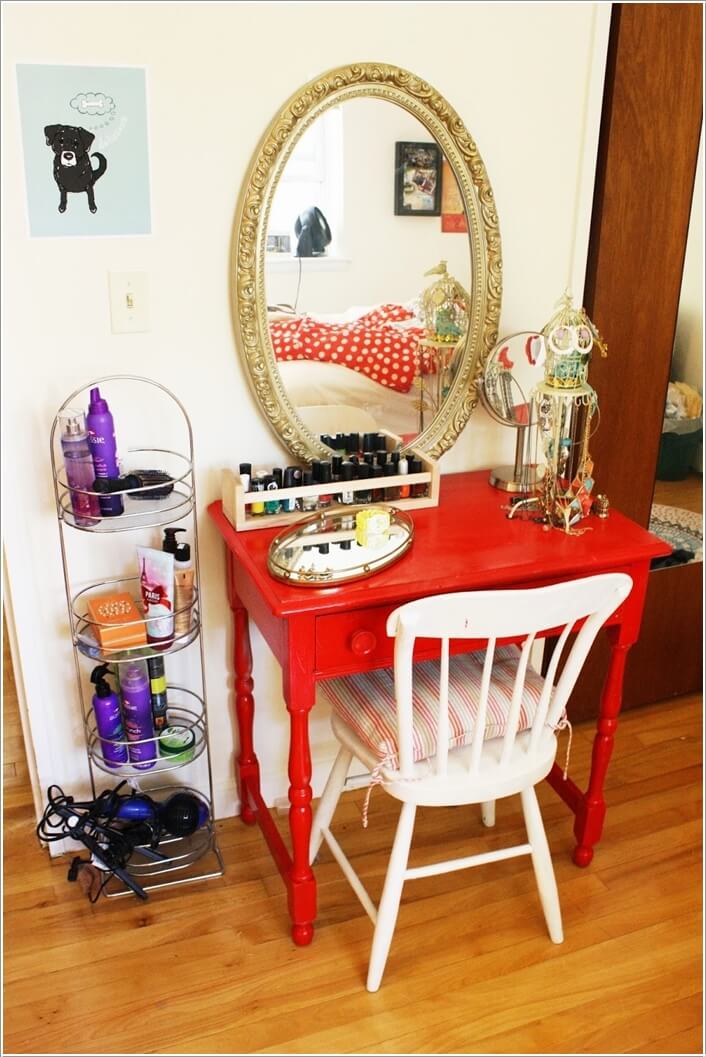 Image via: major shenanniegans
10. Re-Imagine IKEA Micke Office Table as a Makeup Vanity Table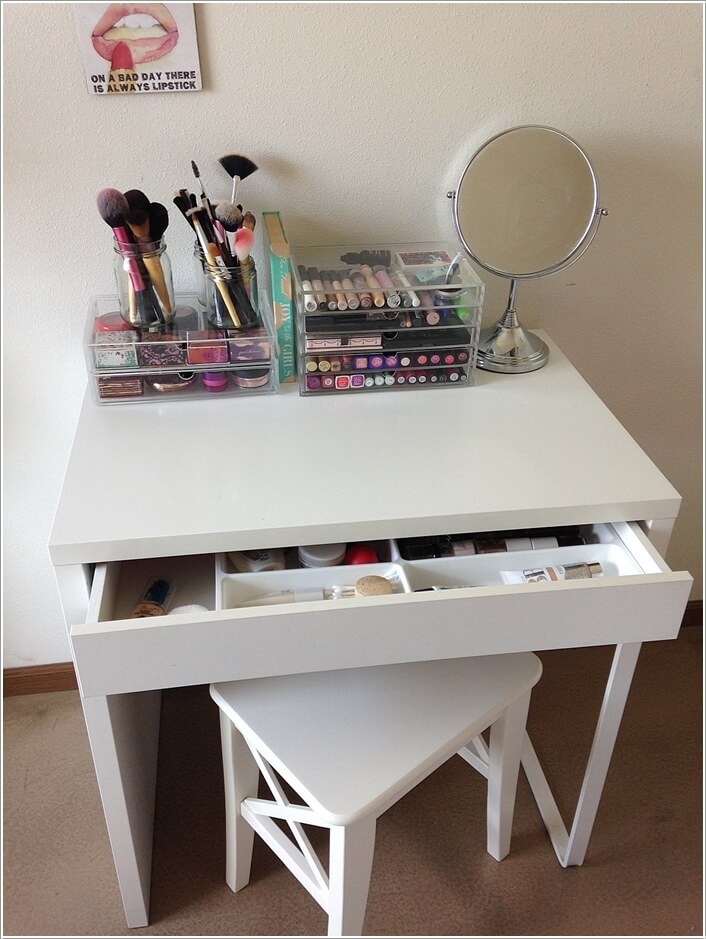 Image via: minimalist desk